SELLING YOUR COINS
Gold Buyer of Suffolk County, Patchogue, Long Island. Sell or Pawn Coins, Precious Metals, and Currency at Budget Buy & Sell
WE BUY COINS AND CURRENCY
Budget Buy & Sell deals in all types of U.S. and Foreign Coins. U.S. 90% silver coins are dimes, quarters, or halves dated 1964 or older. U.S. 40% clad coins are halves only dated 1965-1969. War Nickels are dated 1942 – 1945 with large mint marks only. Silver dollars were minted up to 1935. We buy all early U.S. & foreign coins and paper monies, but coins that are damaged in any way are almost unsaleable, but may have scrap value. The better condition the higher the price. We pay top dollar on all gold and silver coins.
Bring your coins, precious metals, and currency to Budget Buy & Sell today, and we will provide accurate identification and current market values for your coins.
We buy all grades of the following coins and currency:
•    All rare coins and certified coins
•    Large Cents
•    Indian Cents
•    Half Cents
•    Lincoln and Wheat-Ear Cents (Pre-1959)
•    Bust coinage — half dimes through dollars
•    2cent and 3cent pieces
•    Liberty Standing Quarters
•    Large and small size paper money, all types
•    Buffalo Nickels
•    Liberty Nickels
•    Silver Wartime Jefferson Nickels
•    Seated Coinage: Dimes, Quarters, Halves and Dollars (nickel)
•    Barber Coinage: Dimes, Quarters, Halves
•    Silver Eagles
•    Proof & Mint Sets
•    All Gov't Issue Items and Commemoratives
•    All Foreign coin, including gold and silver
---
WHAT ELSE DO WE BUY?
Budget Buy & Sell buys gold, diamonds, silver, watches, jewelry, and other collectibles. Whether you are looking to sell your valuables or to obtain a pawn loan, we pay top dollar and pride ourselves on generations of honesty and integrity. Just bring your items to our store in Patchogue, Long Island, New York and our experienced staff will give you an estimate of the value of your unwanted gold or jewelry.
Here is a quick summary of our most popular selling and pawn loan categories:
GOLD
GOLD is usually stamped 10K, 14K, 18K. Gold is bought by the pennyweight (dwt). There are 18.2 dwt to the avoir oz. or 20 to the troy oz. Dental gold must be yellow and is usually around 16k. Items stamped 1/20 12k – H.G.E. are gold plated and worth very little.  We test all gold, marked and unmarked.  If there are diamonds or other precious stones in the item brought in, we will add their value to the weight of the gold. Learn more.
DIAMONDS
Diamonds can be very valuable depending on some characteristics the diamonds may have. The shape, cut, color, clarity, and carat weight all play an important role in the overall value of your diamond. Click here to see which categories fits your diamond.
SILVER
Items must be stamped "Sterling" .925 – .900 – .800. Many items stamped Sterling are weighted with plaster (i.e. candlesticks) and must be broken to get the true weight. Knives which have sterling handles are figured at 1/3 – 1/2 oz. each.
WATCHES
Many common gold watches made in the last 20 to 30 years are probably worth their weight in gold only, but Budget Buy & Sell will examine the watch to determine if it has any value above melt. Hunting case watches (flip Covers) that are working or repairable are valuable. Repeater watches which chime the time are very valuable – often worth over $1,000. Old silver watches are also worth a premium. Particularly valuable watches are Rolex; Cartier; Tiffany; Omega; Patek; Phillipe; Piaget.
If you have something not listed here, bring it to our store in Patchogue, Long Island, New York and let us tell you what the value is for your item.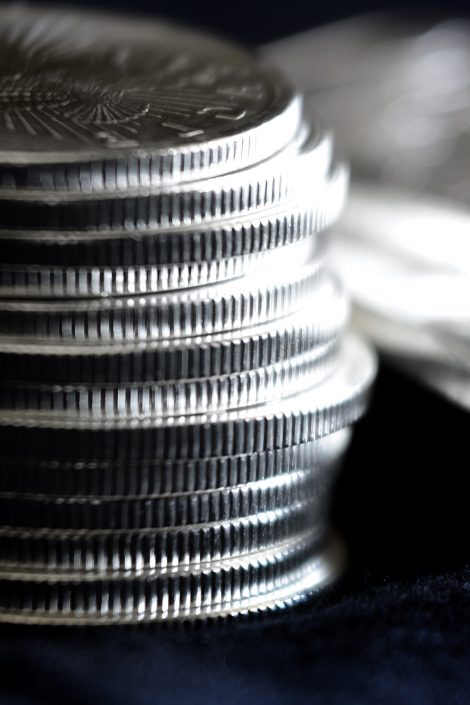 I have trust the staff here for over five year, because they are honest and fair. They have a very good selection and the employees know their merchandise.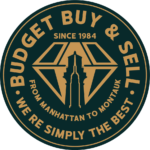 Jimmy and the boys are the absolute best. I made my first purchase in 1996 and I have never bought from another jewelry since. You feel comfortable and are treated right as soon as you walk through the door. They are truly the best at what they do.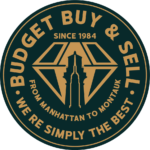 I can't thank Teddy and Jimmy enough! I went into Budget Buy and Sell frustrated that I couldn't afford the gift I wanted to give. I walked out spending less than I wanted to spend with more than I expected! They even gift wrapped for me! Thank you Teddy for your patience and amazing customer service (I'm in retail!). I'll be back and will tell all my friends about this great experience!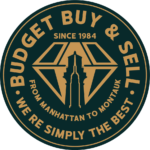 5 STARS!!!!!! WOW!!! Excellent service. Polite, honest, professional, and reliable!! I dealt with Chris who was amazing! He sent out my jewelry to be redesigned and told me that I would have it back within 10 days. Well, I had it back in 2 days!!! I am so pleased with the service that Chris provided at Budget Buy and Sell. I HIGHLY recommend doing business with them.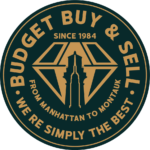 My wife had picked out a very beautiful ring last saturday I came back today to get the ring and the gentleman pick it right way every gift wrapped for me thanks to them I can surprise her. Thank you gentlemen for your help